Long Term Review
Living with a Jaguar XE (Month 5)
Erin Baker looks at what it's like to live with an 'old-school' Jaguar XE saloon.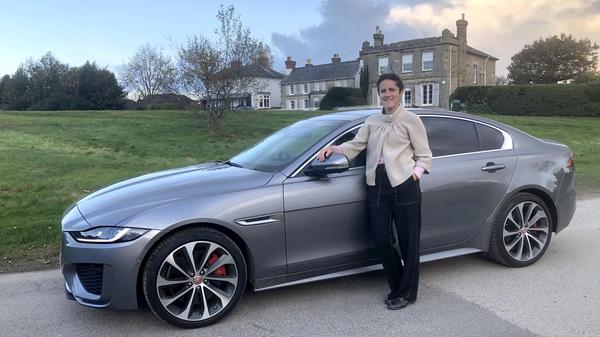 What is it?
Model: XE
Version: P300 2.0 AWD
Spec level: SE R-Dynamic
Options fitted: metallic paint (£600), 19-inch 10-spoke wheels (£900), sliding panoramic roof (£1,345), Meridian sound system (£840), Dynamic Handling Pack (£1,090), 12-way power adjustable/heated front seats (£350), Technology Pack (£1,330), Air Quality Sensor (£50), Cabin Air Ionisation with PM2.5 filter (£130), privacy glass (£410)
Cost as tested: £44,330
We like
Exterior styling
Passenger and boot space
Touch-screen design
We don't like
Gruff petrol engine
Black leather interior
Slightly blurred vision through windscreen
Month 1 - The case for an 'old-school' saloon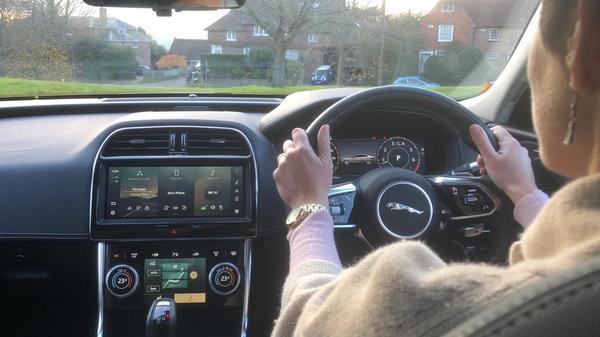 Mileage: 330
Having seen the fantastic design work Jaguar has done across its updated range with its restrained, elegant interiors and the beautiful range of exterior colours we were slightly disappointed to take delivery of one in boring silver with a black interior. But beggars can't be choosers, and the XE still looks gorgeous from the outside, with sleek headlights, a soft silhouette and contemporary rear end with 'Jaguar' in a modern script on the boot. Take it from us, though, this particular car doesn't reflect the great mixture of pale, natural interior materials Jaguar is now offering in its cars. These, combined with air filters and sound deadening, offer a calming, airy oasis in which to relax. We were also a bit startled by the 2.0-litre petrol engine on start-up - my partner and I both wondered for a moment if we'd taken delivery of a diesel because it's pretty rackety for a petrol unit. It's fine once you pull away and are on the move, however. The P300 part of the model name refers to the power output in horsepower, which is a pretty healthy figure and Jaguar says the 0-60mph acceleration time is 5.6 seconds, which is pretty rapid. You sense the available power when you put your foot down but, if you're just pootling round town, the XE feels quite languid. You pay for pace in fuel consumption, as always. We haven't done better than 31mpg in our first month with the XE. I've always thought that premium saloons like the XE have an alternative life as a four-door sports car. The handling, suspension and steering of a Jaguar are as good as many sports cars out there, and you get pretty strong acceleration when required but there's no trade-off in space or comfort like there is in a coupe. So, you still get ample room for four adults and their bags in the wide, deep boot, and everyone stays comfortable throughout a whole day's driving. There's a reason why saloons have traditionally been the preserve of travelling sales folk, on the basis they are perfect for long motorway mileages. But they also make great family cars. And if you're thinking "yeah, but you can't fit bikes in the back of a saloon" then I point you towards the vast majority of huge SUVs round our way, whose owners still put the
bikes on external racks
because, once the kids are teenagers, you can't fit them inside the car, no matter how big it is. Meanwhile, my partner drives a
Peugeot 508
and, much as we love that car, he says he feels the difference when he drives the XE. Jaguars still feel that bit more special, and it's lovely to be driving something with a British badge on it, and be proud. The only major drawback at the moment, is the windscreen glass, which is obviously not as smooth as it should be - a refraction in the surface somewhere is blurring the light of oncoming cars slightly, making me feel a little bit nauseous on occasion. I'm getting used to it - it was bad the first day I drove the car, and my partner notices it too, although it doesn't bother him, but it shouldn't happen. We're also waiting to see if the beautifully designed infotainment system, common across Jaguar and Land Rover models, is going to glitch, as it normally does. But so far so good!
Back to top
Month 2 - Interior space and fuel economy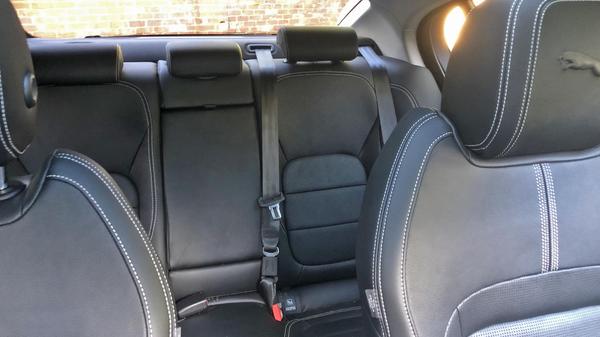 Mileage: 4553
I see the mileage has shot up by 4,000 miles on the clock this month, which isn't right, so I fear I wasn't looking at the figure correctly last month - I can't have done more than about 1,000 miles in it this month. The kids love the Jaguar although, thanks to Austin Powers, I now have my eight-year-old calling it the Shaguar. They sense it's a premium cut above other cars and love going to school in it - it feels like a big, spacious car with all the kudos associated with that. I agree with them. Jaguars maintain a special feeling and they elicit a sense of occasion that German competitors just don't, due to their ubiquity on British roads. I'm not so keen on the 31mpg the XE is returning, though. The 2.0-litre petrol engine may be smooth and capable of decent acceleration, but that sort of fuel economy just makes me wince now, especially with it costing about £80 to fill the tank. I was also disappointed when the XE arrived with a black leather interior, given my tastes are far more for light colours and fabric or wool materials. But I now couldn't be more grateful after our black Labrador took it upon himself to abandon the front passenger side footwell and settle down on the seat instead after a walk in the mud and rain last week. When I yelled at him to get off it, he nonchalantly climbed onto the arm rest and strolled across onto the back seats. The whole interior took on a beige hue. I left it to dry, then brushed off the mud and wiped the seats down, and all is as good as new. I'm also a fan of the smartphone audio display on the touchscreen - it's the first car I've had where the songs and the pictures of the albums match up on the screen. With the design which bleeds the image on the screen into the controls on the far side, it looks amazing. This sounds like a small detail, but when you pay a lot of money for a premium model, you want it all to look the full beans inside. Another small but pleasing thing is the electric parking brake which automatically releases when you put the car in "Drive" and set off. Not all cars do this, and it makes a difference if you're constantly in and out of the car all day. I sat in the back seat for the first time in a very long time the other day, while my partner drove somewhere with stuff loaded in the passenger footwell. He's 6ft 3in but there was enough leg room behind him for my 5ft 6in frame. So far, so good.
Month 3 – We can see clearly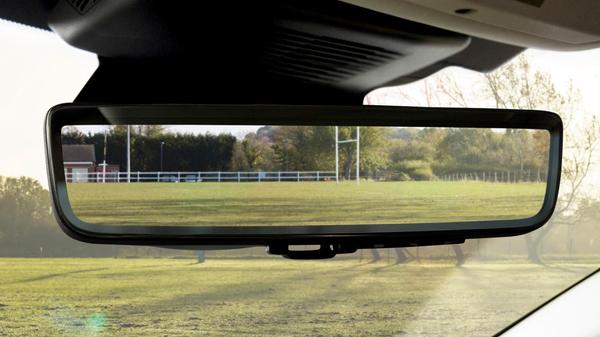 Mileage: 5,251
I drove the XE to my drive-through PCR test centre this month, the glamour. Mask on, window open a crack trying to show QR codes through the glass, I found myself answering questions mainly about the car rather than my identity. One of the marshals had just ordered one - his dream car in retirement - and another was thinking about the XE versus the
F-Pace
and asked me which I thought he should go for. I said XE, on the basis who wants to be yet another SUV owner if you don't have to be? The XE is far more svelte, handles better because it sits lower and has fantastic road presence since it got updated with sleeker headlights. I'm not the only one who appreciates the looks, my boys both pleading with me to take them to school in it every morning rather than any other test car we might have in … unless it's a Lamborghini. It's also superb on motorways, scything through the air without a murmur, where SUVs have to blast their way through. I travelled 200 miles in it the other day on motorways, and it just glided seamlessly along in the fast lane, untroubled by the speed or wind or bouts of overtaking. I arrived home at the end of the day as refreshed as when I'd left home, and I don't feel that way in many other cars carrying a similar price tag. There's a reason saloons have been the choice of travelling sales types for so long. One key feature we haven't yet mentioned is the rear-view mirror, which comes with Jaguar's Clearsight technology in our test car. It means the mirror shows either a normal reflection of the view through the rear window or, by flicking the little lever at the bottom of the frame, you turn the mirror into a camera display of the view from the rear of the car. This is very useful in SUVs, when you might find the boot stuffed to the gunnels, blocking your view. In a saloon, it's less likely to happen, unless you regularly pile stuff up on the parcel shelf. But it looks quite cool and actually, after dark, we've found it provides a clearer view of what's happening behind you than the mirror. The interior of the Jag is faring well, despite heavy use by children and dog, who nonchalantly stepped up from the passenger footwell, across the front seat and into the back seat the other day, despite my yells, leaving a trail of muddy paw prints on the black leather. I just wiped it clean when it has dried, job done. We also love the peace of mind of all-wheel drive the XE offers in the depths of winter. Bring on the snow. Maybe.
Back to top
Month 4 - Feeling flat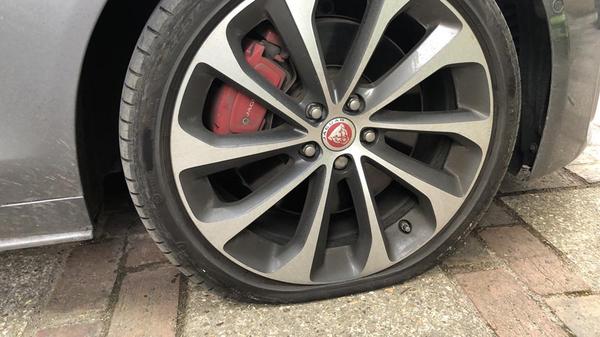 Mileage: 7,201
I drove the XE on the six-hour trip from our home in Kent to north Wales this month with my new mate Maureen (a spritely, gung-ho 87-year-old) up front and both boys (aged 11 and eight) in the back. The boot was stuffed to the gunnels with two large holdalls, one medium wheelie suitcase, bats and balls, a bag of board games (no wi-fi or Netflix where we were going, shock, gasp) and a bag of food. Having passengers aged eight to 87 in your car brings its own set of challenges, but also means discovering features that I haven't had any call for since I got the car four months ago, such as the audio balancer in the car. Much as Maureen loves a bit of Modern Family, she wasn't keen on six hours of back-to-back episodes so, while the kids watched an old DVD player with the volume turned up in the back, I isolated the audio to the front of the car so Maureen and I could hum along to a bit of Rachmaninoff. You can see who got the short straw on this trip. It worked surprisingly well - back couldn't hear front and vice versa for hours. There was also plenty of legroom for everyone, although granted Maureen didn't take up much space, and insisted, as women of a certain age do, on having both her handbags at her feet for the entire trip. She must have been comfy though, because she slept for half of it and I softly snuck in Radio 2, rebel that I am. The XE makes a fantastic motorway cruiser. You just bung on the cruise control via the steering wheel controls and settle in. It's got a quiet, long-legged lope and just streams down the tarmac until you say otherwise. It's also noticeably smaller than the XF which is better for parking - I had no qualms about shoving it in tight spaces in Conwy while we explored the castle. A day after our return, however, we had our first hiccup with the Jag - and not its fault. I reversed out of our driveway, turned onto the road and wondered what the loud hissing noise was. I had just enough time to realise it was a huge puncture and rapidly pull back into the driveway before the whole tyre deflated, flat as a pancake. Jaguar breakdown assistance, courtesy of the AA, was fab, and arrived about four hours later. The XE doesn't have a spare, just a repair kit. My breakdown man did his own repair, which made the tyre good for 50mph, and Kwik Fit came out the next day with a new one. Job done.
Back to top
Month 5 – Time for a spring clean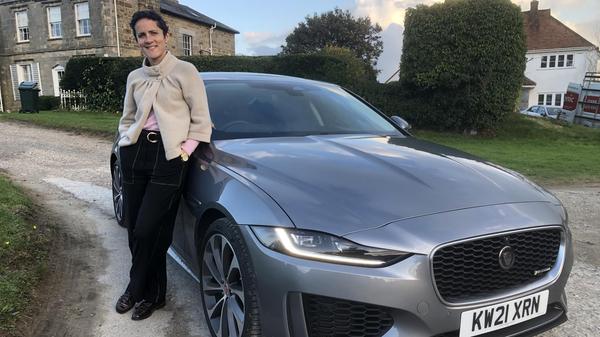 Mileage: 9,212
It's nearly time for the Jag to go back. The kids have loved having a 'posh car' for six months and, while they aren't petrolheads, recognise they're in something with a bit of status at the school gates. Embarrassingly, this suggests they are very much badge snobs. I blame the parents. We've done almost 9,000 miles in this car since it was delivered, despite regularly having a second or even third car to choose from. This speaks volumes about the ease and comfort of the XE. Huge plus points include the leg and head space for four adults and the ease of driving on motorways, where it just cruises quietly along, mile after mile, with zero fuss or – in the car industry parlance – unpleasant Noise, Vibration and Harshness, or NVH as car engineers call it. Five months in we can't even report on any glaring tech glitches, which is a first for us on any Jaguar or Land Rover model in our experience. Occasionally Apple CarPlay hasn't started up despite the phone being correctly connected, but that's common enough in other manufacturers' cars as well and probably as much down to the handset. The worst thing about the car remains something I commented on when I first drove it, which is the curvature of the glass in the windscreen. It slightly distorts the vision of the road ahead and is worse in the face of oncoming headlights. My partner finds it annoying too, but not as off-putting as me. It gives me a slight headache. I'm not a huge fan of the 2.0-litre petrol engine, either. It sounds gruff (many people assumed it was a diesel) and isn't massively efficient – we've been getting about 32mpg. On the upside, I don't have the range anxiety I have in my electric car, which I'm thankful for at least once a fortnight when we have to venture on a longer motorway trip. I'm also glad we didn't go for the larger XF. It would have given us more room inside, and looks better to my eyes, but the XE is noticeably easier to park (especially with the sensors and reversing camera) and I haven't yet struggled to fit it in a slot around town. Now, I just have to get it cleaned before it goes. Almost six months of boys' detritus and the odd muddy dog footprint on the (thankfully wipe-clean) black leather seats are going to demand some elbow grease.
Back to top