Expert Review
Volkswagen I.D. BUZZ electric campervan preview
A next generation VW van, the upcoming I.D. model is a four-wheel drive electric campervan that's creating a real BUZZ.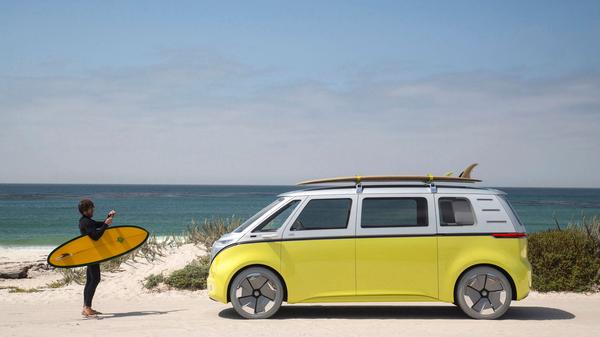 The Auto Trader expert verdict:
Originally sparking interest as a concept at the Detroit Auto Show in January in 2017, there's an exciting new development. Volkwagen's plan to start production on its new green scheme platform this year means the I.D. BUZZ is keeping the future of electric campervanning fully-charged.
Reasons to buy:
Looks to be a game-changer in electric campervan
Innovative multi-functional seating design
Underfloor battery means so much more space on board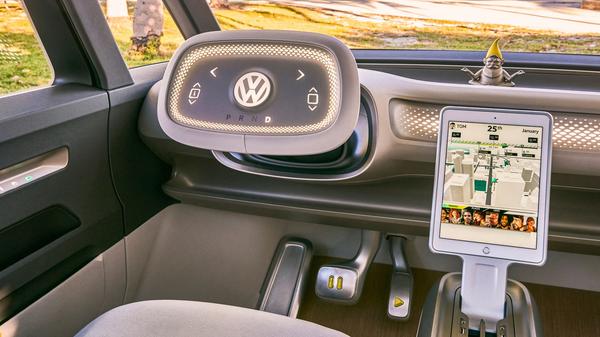 Drive
The BUZZ is set to draw a power output of 275kW from two motors down through its 4WD drivetrain to a range of 270 miles / 600km (AER driving range). The debut concept featured a steerable rear axle in addition to the front, too, making for a tiny turning circle of less than 11m. Could be a godsend on backroad pitches if it comes to fruition. The BUZZ presented in Detroit claimed 0-61mph in around five seconds, with a top speed of 99mph. Charging to 80% of capacity occurs within 30 minutes using its Combined Charging System, but it can also be charged from any conventional household outlet or at charging stations. One of three e-concepts from the VW, the BUZZ is based around its new Modular Electrification Toolkit. The MEB is a system for the efficient manufacturing of electric vehicles that's set to take all aspects of drive, digitalisation and autonomous driving into consideration.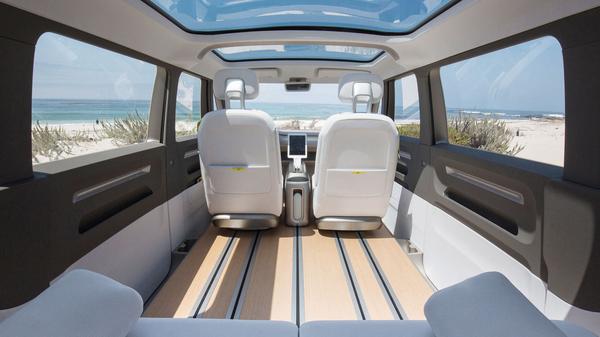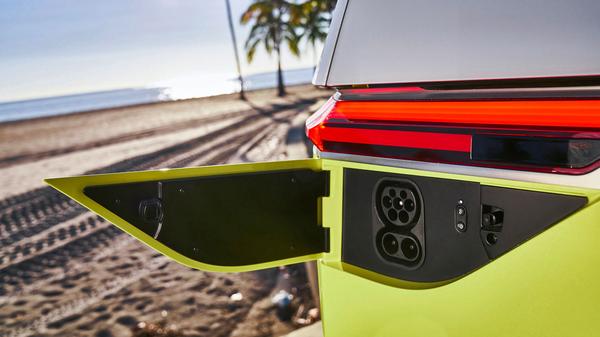 Design
Unheard of in some concepts that make it to production, VW has announced that the I.D. BUZZ on the forecourts will feature main design ideas from the original proposal. These are set to include interactive connectivity, which is kind of to be expected, but there's also variable seating in addition to the automated driving capability. The seating looks like it could be a lot of fun for families. Billed as the eight-seated interior of the future, open space is accentuated by rear bench and centre console that can shift locations, with swiveling captain's chairs up front for driver and passenger to get social when parked up. Due to the MEB application positioning the high-voltage drive battery installed in the floor of the vehicle, there's a huge amount of space freed up everywhere else in the interior. VW has said that, despite the outside length of the I.D. being similar to that of a Golf, you can think more along the lines of Passat interior space. Billed as measuring in at 4942mm long, 1976mm wide and 1963mm tall, this battery-powered TARDIS opens up huge options for capacious campervanning that will lead the way in practical design.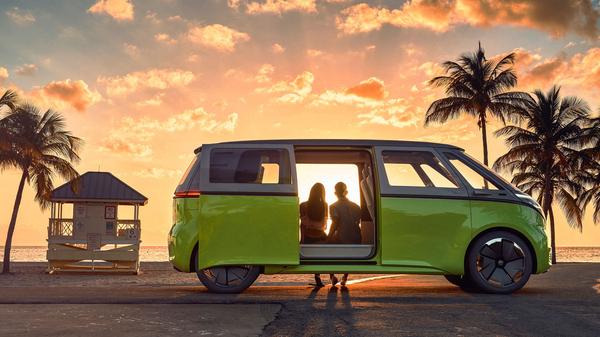 Why buy?
A futuristic microbus masterpiece on paper, it will be fascinating to watch this design develop and come to fruition with the VW I.D. BUZZ. Knowing VW's high standards for both performance and practicality, their lead in the electric vehicle market is certainly going to be one to follow. As an aside, its low engine noise means you'll no longer feel oh-so self-conscious when you take a wrong turn in the Lake District and turn up after hours on a site full of sleeping neighbours. Of course, the finished product is sure to be a lot more familiar in feel than the concept suggests, but there will be plenty of trick touches hitting the forecourts from this campervan of the future. Particularly of interest is the head-up display and augmented reality options for the driver, coupled with the touchpad and touch-sensitive steering wheel that's set to control a number of main functions throughout the vehicle. Volkswagen, Voltswagen… Whatever VW want to be known as in the future of the electric vehicle market, we're listening.